12inch 3000W Scooter Motor
High grade motor solution for electric bike, motorcycle, scooter, tricycle
Advantage of 12inch 3000W Scooter Motor
1) High Power: 3000W (continuous) and peak power is 6000W.
2) Heavy duty 12 x 3.5 inch aluminum wheel, high quality, high grade.
3) High Efficiency: max. 85% to 91%. Save energy, run more distance per charge, extendbattery life.
4) Support voltage from DC 48V to 96V. Recommend voltage 72V.
5) Low temperature rise, low failure rate.
6) Resistant to high current, shock resistance.
7) Actual rated power (continuous), no cheating in power.
8) 2 sets of Hall Sensor, 1 for use and 1 for backup, low repair rate.
9) The scooter powered by this 12inch 3000W scooter motor can reach max. speed 105km/h.
12inch 3000W Scooter Motor
1) Motor Type: DC Brushless Motor
2) Version: V2, V3
3) Rated Power (Continuous Power): 3000W.
4) Max. Power: 4800W (Peak 6000W).
5) Voltage: 72V (option DC 48V – 96V).
6) Magnet Height: 50mm
7) Wheel Size: 12 x 3.5 inch Aluminum Wheel
8) Recommendation Tyre: 120/70-12
9) Speed: 30 – 105km/h
10) Torque: 30 – 190N.m
11) Axle: dual side shaft type
12) Brake: disc brake (180mm) or drum brake
13) Hall Sensor: 2 sets (1 for use and 1 for backup)
14) Max. Working Termperature: 70 ℃ (peak 120℃ in 5 – 10 second)
15) Waterproof Grade: IP54
16) Color: Black, White, Golden, Silver etc.
17) Net Weight: 15.70kgs
18) Unit Packing Size: 43x43x34cm/carton
Advice on Motor Speed
1) The max. speed of 12inch 3000w Scooter Motor ranges from 40km/h to 105km/h.
2) The recommend max. speed is 80km/h at battery voltage 72V.
3) The speed of motor will go up when the voltage of battery increases.
4) It is better to advise the voltage of your battery and your expected speed. And we can recommend the correct motor versions to you.
5) This 12inch 3000w Scooter Motor is the perfect solution for gasoline scooter convertion.
Advice on Motor Controller
1) You should choose 80-150A (power/battery current limited) controller for this 12inch 3000w Scooter Motor.
2) This 12inch 3000w Scooter Motor can support both Trapezoidal Type and Sinusoidal Type controllers.
3) The recommended controllers are APT Controller 96450, LB Controller 72252, Sabvoton Controller 72100, 72150 and other brands.
4) Please feel free to contact us if you have no idea of how to choose the matching controller. We will behind you all the way.
Cover Style of 12inch Scooter Motor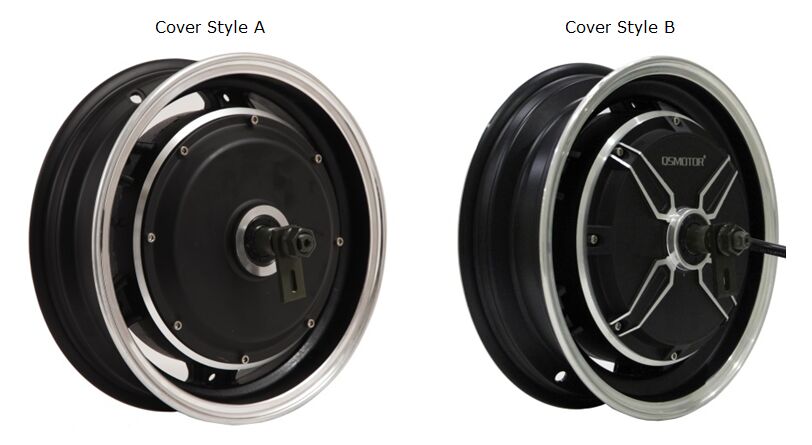 Drawing of 12inch Scooter Motor